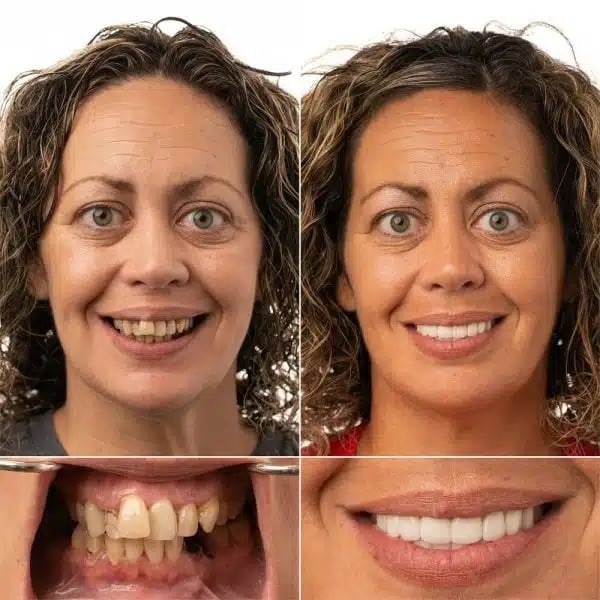 When you have your smile restored at Jax Implants & Dentures, you will notice not only a change in your smile but a total transformation of your appearance and confidence. Our results speak for themselves.
View Our AmazingTransformations!
What Are Dental Implants?
When you lose a tooth due to disease or injury, you may experience complications like defective speech or change to chewing patterns that all result in discomfort. This is where Dental Implants come in. You can replace a lost tooth with a dental implant to improve a patient's quality of life and health.
Dental Implants are small medical devices surgically implanted into the jaw to replace the roots of missing teeth. These implants are inserted into your jawbone and are made from surgical inert material. Inert, meaning you won't be setting off alarms at the airport.
After the implant is placed, a natural lifelike porcelain tooth crown is attached. For some patients, the implant needs to fuse with the bone for several months before it is permanently crowned; while for some, you can have the new teeth on the same day your implants are replaced.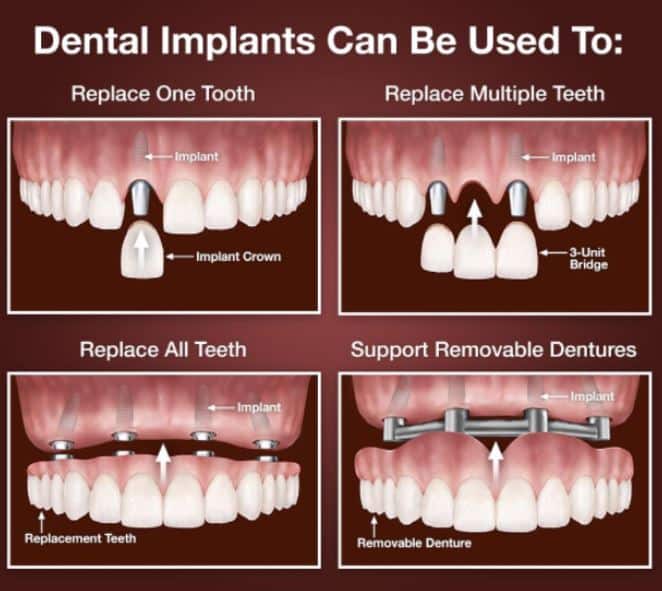 Are Dental Implants Expensive?
Dental implants are not always the least expensive option, but they are usually the best long term option. Before choosing to get dental implants, it is important to talk to your dental provider as these implants offer many benefits but pose a lot of risks, and you need to find out whether you are a good candidate for this procedure.
Implants offer benefits such as restoring the patients' ability to chew. They help keep the patients' jawbone from shrinking due to bone loss and preserve the health of the surrounding bone and gum, and stabilizes adjacent teeth. It improves the patients' overall quality of life.
Choosing a proper dental provider is also a very important thing to consider when getting a dental implant as there are many potential risks to watch out for such as injury to the surrounding teeth, tissues and gums during surgery, and loss of sensation around the surgery site. The implants may also fail due to infection or delayed healing. You may also experience difficulty in cleaning the area around the implant post-op, resulting in poor oral hygiene.
Dental implants can be utilized to replace one tooth or an entire arch of teeth. If you are missing a few teeth, our experts at Jax Implants & Dentures can place implants to support permanent bridges to save on your treatment cost. If you are missing all your teeth, our experts can also replace your entire arch with permanent teeth in as little as 24 hours!
Are You a Good Candidate for Dental Implants?
There's a good chance that you are, but this can only be determined by our surgeons after a complete oral examination which includes x-rays of your jaw to evaluate the quality and quantity of bone.
How Do I Take Care of My Implants?
Simple! Just care for them like your natural teeth. The goal of the implants is to not be able to tell it apart from your natural teeth. You need to brush and floss them as normal, and continue regular care as instructed by your dentist.
Why Choose Jax Implants?
Jax Implants specializes in full-mouth dental implants. Its in-house laboratory helps you to reduce the cost of your dental implant surgery. You only need as few as two visits to the Jacksonville center to get a dental implant. Our surgeons can deliver the final bridge for your dental implant within 24 hours.
Dr. Russell and Dr. McRee are experts in dental implant surgery. They have the skill and techniques to restore your vibrant smile. If you're interested in getting a full-mouth dental implant, contact Jax Implants for a free consultation.
We proudly serve patients in Jacksonville, Florida and surrounding areas including Orange Park, Atlantic Beach, Lakeside, Palm Valley, Lake City and more.