Unlike conventional dentures, which can potentially slip out of place, snap-in dentures are more stable and versatile. Dental implants (small screws) are placed within your bone, similar to the roots of your natural teeth. These hold snap-in dentures in place.
Advantages of implant dentures:
Secure your teeth. No more floating or loosening while talking or doing other everyday activities.


Significantly improve chewing ability. You will be able to eat almost anything you want.


Better taste. They do not cover the roof of the mouth, allowing you to chew normally and fully enjoy great food again.


Elimination of gagging. Due to the stability of implants, we can make the dentures have a slimmer, more natural profile.


More comfortable. Implant dentures are less bulky than traditional dentures. There is also less movement and friction on the gums as a result of being snapped in-place.


Bone retention. When you don't have teeth, the bone in your mouth can recede over time. Our implants are proven to help retain bone in the jaw that otherwise might deteriorate.


Cost savings. Our services are entirely in-house from start to finish. We do not use third party dentists, surgeons, or labs. This allows greater savings to be passed on to the patient.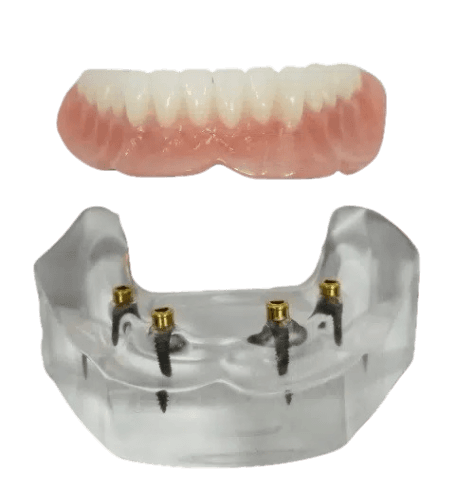 Implant Denture (snap-in) packages
All of the below packages come with our highest quality, premium dentures, providing ultimate aaesthetics and function.
Are there hidden charges?
No. We are very straightforward in our approach. We have open and transparent pricing and options so that you can be confident in what you are getting. We stand behind what we do.
4 Implant Lower snap-in denture
$8,250 + cost of extractions
This replaces all of your bottom teeth with a secure denture held in by dental implants. This price includes 4 dental implants, abutments, snaps, and the snap-in denture.
Optional 2 implant lower snap-in denture
$5,250 + cost of extractions
While not as stable or secure as a 4-implant denture, it offers significant improvements in chewing power and retention over a traditional full lower denture.
Snap-In Dentures vs Traditional Dentures
| | | |
| --- | --- | --- |
| | Much greater chewing power than dentures alone. | Significantly reduced chewing power. |
| | Stabilized dentures = more natural speaking. | Can be more difficult due to looseness of dentures. |
| | Smile and laugh confidently knowing your teeth are secure. | Full dentures alone can get loose when laughing. |
| | Secure dentures cause fewer sore spots. | Regular dentures can move causing sore spots. |
| | Implants can help reduce gagging. | Greater chance of gagging. |
| | Implants help reduce bone loss. | Bone loss is common after natural teeth are removed. |
| | | Will most likely be needed. |
How does the process work?
Procedure – After the removal of any remaining teeth and any other necessary procedures, the implants are placed into the jawbone immediately. After this, the implants are typically not visible. They will remain in your jaw untouched for at least 3 months while your bone attaches to them (osseointegration). During this time, you will wear a transitional denture, which will be given to you on the day of your surgery.
Post op — We will see you back for a quick post-operative appointment, which we usually schedule for the day after your procedure. At this appointment, we will evaluate your mouth, ensure that your transitional denture fits as comfortably as possible, and answer any questions you may have.
Soft liners / soft re-fittings — Soft liners are cushions that we place in your denture periodically while you heal. They fill in the spaces between your gums and dentures and they also give your gums some cushioning. They help your dentures fit and feel better.
Uncovery – This is a smaller surgical procedure where we expose the implants and place small healing abutments on top of them to properly shape your gum tissue in preparation for your snap-in dentures.
Attachment of implants to dentures – We will change out your healing abutments and perform the steps necessary to attach your dentures to your implants. This step can usually be done in one day, but sometimes can take slightly longer depending on the patient's healing.
At Jax Implants and Dentures we provide life-changing transformations for our patients. With a bright clean smile they feel more confident