Have you been told you have limited jaw bone and dental implants won't work for you? Good news! Zygomatic Implants are a safe and effective way to avoid the costly and unpredictable method of advanced bone grafting.
Zygomatic implants are for patients who've been told they don't have enough bone for full mouth implants. The traditional method for enhancing bone in the upper jaw involved a procedure called a sinus lift. However, sinus lifts may take months to heal properly and don't always have the same long term outcome that zygomatic implants do. The bone you already have is usually superior to anything that's grafted.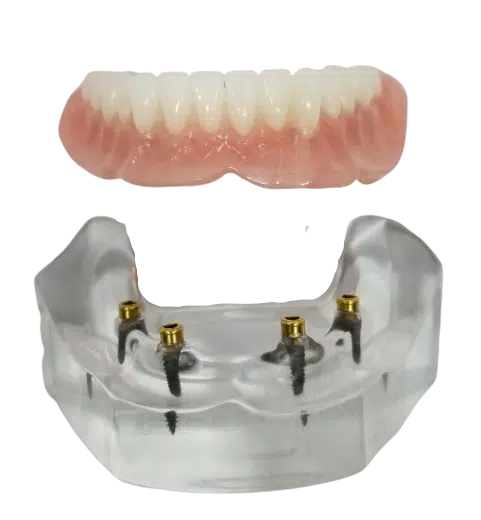 No waiting! With Zygomatic implants
you don't have to wait for extensive healing to occur. Your process towards better chewing progresses the same as anyone with traditional implants. You enjoy getting your new teeth immediately attached to the implants so that you're ready to smile and eat again.
Dr. McRee uses the latest and most advanced techniques
To safely provide durable, long-term results with Zygomatic implants. Initially, Zygomatic implants were placed through the roof of the mouth and through the sinus cavity.
4 Implant Lower snap-in denture
$8,250 + cost of extractions
This replaces all of your bottom teeth with a secure denture held in by dental implants. This price includes 4 dental implants, abutments, snaps, and the snap-in denture.
Optional 2 implant lower snap-in denture
$5,250 + cost of extractions
While not as stable or secure as a 4-implant denture, it offers significant improvements in chewing power and retention over a traditional full lower denture.
Snap-In Dentures vs Traditional Dentures
| | | |
| --- | --- | --- |
| | Much greater chewing power than dentures alone. | Significantly reduced chewing power. |
| | Stabilized dentures = more natural speaking. | Can be more difficult due to looseness of dentures. |
| | Smile and laugh confidently knowing your teeth are secure. | Full dentures alone can get loose when laughing. |
| | Secure dentures cause fewer sore spots. | Regular dentures can move causing sore spots. |
| | Implants can help reduce gagging. | Greater chance of gagging. |
| | Implants help reduce bone loss. | Bone loss is common after natural teeth are removed. |
| | | Will most likely be needed. |
However, this involved many complications such as sinus perforations and produced extremely bulky teeth on the roof of the mouth. With today's advanced techniques, we use an extra-sinus approach that feels streamlined to the patient and has much lower postoperative risks. Studies show this approach is far superior to previous methods in almost every conceivable way.
In addition to Zygomatic implants, Dr. McRee is highly trained in the placement of many advanced implants for patients with limited bone.  He routinely places pterygoid, subnasal, trans-sinus, and piriform rim implants with an exceptional success rate. His skills give the ability to chew and smile back to those who otherwise were told it was not possible.  
If you are contemplating dental implants please do not hesitate to contact us and explore your options today. After all, you deserve to chew your favorite foods and enjoy memorable times with family and friends. With Zygomatic implants, you have more options than ever!
At Jax Implants and Dentures we provide life-changing transformations for our patients. With a bright clean smile they feel more confident